Our Blog Posts
IT support job interview questions
3rd May 2017 | Interview Tips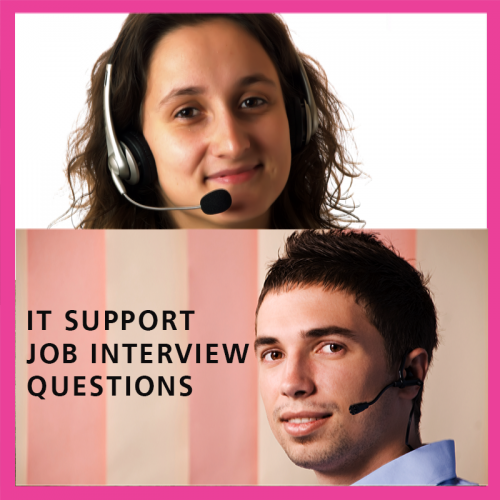 If you are preparing for an IT support job interview, here are a few questions and tips on 'how to answer' and shine at the interview.
Be interested in the company and do your homework
A lot of candidates attend interviews ready to talk about their CV, skills and experiences and what they can bring to the table, but they forget to be interested in the company as well as the role. Potential employers are interested in candidates who have taken a real interest in working for their organisation, as it shows they want to stay and grow with the company for the long-term. As well as looking on the company's website, check out their LinkedIn pages, YouTube and even Pinterest. Search them on Google for interesting news stories and check out Glass Door for other valuable market information.
Can you explain your experience of installing and configuring hardware and software? 
This question normally is asked by big organisations and your answer should cover the details.  Describe the main services you have provided and indicate your role and the company. This formula below can help you to answer the question precisely:
[ When did you do it + What was the task + How did you complete it + What was the outcome ]
If you haven't got the experience of working in a big organisation, don't panic and just describe the most relevant jobs you have done and demonstrate your knowledge.
How do you manage the support queue?
This can be a bit tricky and situational. For example, you might have worked based on 'first come, first served'. In this case, explain about why it had to be done this way. In whatever way you had to manage the support desk, it is always good to mention the other ways of ticket management. You also might talk a little about 'priority management', 'triage based support', 'SLA based support' and so forth.
Why is analytical thinking important in the career of an IT technician?
As you already know, problem analysis is a key stage in solving any problem. Prepare a good example about investigating the software and hardware performance, integrate it with the client issue and your solution.
If you have enough time prior to the interview, read a couple of relevant articles. This is a good way to show your keen interest on the subject.
Why are communication skills important in the career of an IT technician?
Troubleshooting and analysis perhaps are the most vital aspects of any IT support role. However, you also need to be a good communicator. As an IT support engineer, you are not expected to lead or be an orator, but you are expected to communicate effectively in understanding issues and providing any explanations in an easy way.
Most probably, you will be working with clients at all levels and with different technical backgrounds. So make a note of your best encounters, which you are proud to talk about.
End the interview on a positive note
And at the end, there is still one more important question to answer, which many candidates fail to be prepared! One of the worst things a candidate can do at the end of an interview, is to answer the typical 'do you have any questions' with a stony silence! Make sure you have some intelligent questions prepared; write them down and take them with you into the interview so that you don't forget them. Ask the interviewer where they see the future of the company, ask if they have any interesting projects coming up they can tell you about or ask the interviewer what they love most about their role. Don't ask about salary, holidays or perks unless the interviewer brings the subject up. Re-confirm your interest in the role and thank the interviewer for their time. Don't forget, this question is a good opportunity to show your keen interest to the company and the role.
RELEVANT TOPICS to "IT support job interview questions:
Most common interview mistakes  |  What to wear to your interview | Further Interview tips
Wishing you best of luck!